THE CHAMBER AND MERCHANTS THINK IT IS A
REAL SHAME
TO CHARGE THE TOUR OPERATORS AN EXCESSIVE CHARGE
TO BRING US CUSTOMERS!
THEREFORE, YOU NOW HAVE A BETTER CHOICE
;
THE JAMESPORT AREA CHAMBER OF COMMERCE
PROVIDES A REASONABLY PRICED, PROFESSIONAL TOUR GUIDE
TO ACCOMPANY YOUR MOTOR COACH GROUPS, WITHOUT PRICE GOUDGING
JAMESPORT'S "AMISH COUNTRY TOURS" GUIDE PROVIDES AN EXCEPTIONAL GUIDE
FOR ONLY $3.00 PER PERSON
ALSO; SOME OF YOU DO NOT WISH TO TAKE THE "AMISH HOME TOUR" AS A PART OF YOUR
JAMESPORT EXPERIENCE AND WE DO NOT FEEL THAT YOU SHOULD NOT HAVE TO PAY
FOR THAT ADDITIONAL PART OF THE TOUR, THAT YOU DO NOT WANT TO DO.
THEREFORE, THE "AMISH HOME" PORTION OF THE AMISH COUNTRY TOUR IS AVAILABLE
AT AN ADDITIONAL CHARGE OF ONLY $1.50 / PER PERSON (35 PERSONS OR MORE)
FOR THOSE GROUPS THAT WISH TO TAKE THE (Optional) "AMISH HOME TOUR".
"NEW"
AND EXCLUSIVELY OFFERED
BY the "Amish Country Tours "
CLYDESDALE DRAWN
VIS-A-VIS LIMO CARRIAGE RIDES
FROM THE GINGERICH DUTCH PANTRY IN THE CENTER OF TOWN, PAST THE FESTIVAL PARK, AND ON DOWN TO THE CITY PARK AND THE HARRIS LOG CABIN;
THEN BACK,
PAST THE BEAUTIFUL STAINED GLASS WINDOWS OF THE METHODIST CHURCH
AND
OUR HISTORIC "OLD HOTEL", NOW, THE COUNTRY COLONIAL B&B.

UNLIMITED, DELIGHTFUL, FUN FILLED RIDES FOR YOUR ENTIRE GROUP FOR FLAT RATE OF JUST $50 TOTAL COST
(AT YOUR EXCLUSIVE DISPOSAL FOR AT LEAST 2 HOURS.) While most shop, your Folks can take turns riding. EVERYONE WANTS A PICTURE TOO, SO THEY CAN SHOW, YOUR NEXT TRIP'S PASSENGERS, what they can look forward to on your next trip.
THE "BOTTOM LINE" IS: YOU CAN SAVE:
(ABOVE THE "STEP BACK IN TIME" TOUR)
BASED ON AN ADVERAGE 50 PERSON GROUP

$200.00
(IF YOU DO NOT TAKE THE "HOME TOUR")
OR
$125.00
IF YOU TAKE THE "HOME TOUR"
OR
$75

IF YOU, TREAT THEM -REALLY SPECIAL- AND GIVE THEM EVERYTHING INCLUDING THE "AMISH HOME TOUR"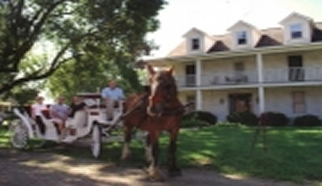 AND A GREAT CARRIAGE RIDE EXPERIENCE!
IN THE EVENT OF INCLAMENT WEATHER WE WILL REFUND THE CARRIAGE RIDE CHARGE
EXPENSES ARE HIGH ENOUGH! DON'T YOU DESERVE A BETTER "BOTTOM LINE" WHILE GIVING YOUR GROUP A REALLY MEMORABLE EXPERIENCE?
Call today and make your arrangements for your next trip:
660 684 6711 (the Chamber Hot Line)
(Ask for Myrick or Nina and improve your bottom line)