The Country Colonial B & B of Jamesport, Mo. is hosting Murder Mystery Weekends.
Come and become part of the community and its recent murder.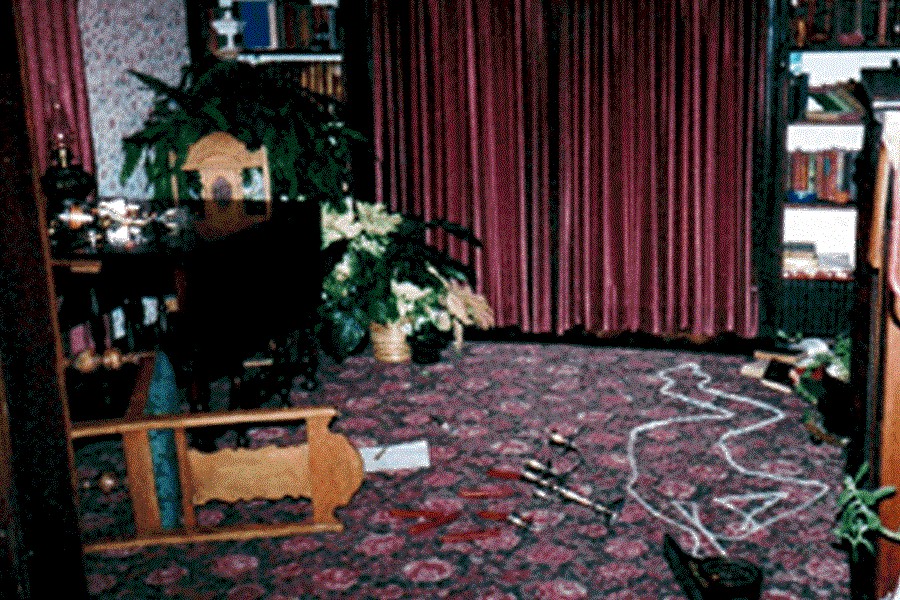 The weekend package for six includes:
Friday:
Evening party-tray buffet dinner
Crime Scene Inspection
Interview with Police Inspector
Secrete Dossiers Received

Saturday:

Country Breakfast with Clue Investigating
Scavenger Hunt Through Shops for Clues
Candlelight Dinner
Dessert in Parlor With Interrogating

Sunday:
Large Country Breakfast with Clue Investigating
Carriage Ride Through the Amish Countryside
(If weather permits )
Murderer (Murderers) exposed
The mystery weekend is $ 975.00 (or $ 325.00 per couple). It does require 3 couples.
This will be a weekend of excitement, good shopping, excellent food, and fun
Rules of the Game
1. You may never lie (unless directions tell you to lie). Instead of lying, you need to try to evade answering the question or just plain avoid answering. If you can think of a logical answer, that is not an outright lie, then try it.
2. You need to use the facts that you have discovered about the others to implicate them. The only way to prove your innocence is to find the real killer. A clue must be revealed right after the clue has been discovered, but be smart, and don't volunteer any information that will implicate you.
3. If you are the killer or think you are, then you do not want to be convicted of this murder. Murder trials are very expensive, and prison is not the place where you want to retire. Shift the blame to someone else. Prove that another person who had a motive, opportunity, and means could have killed, and did!
4. Do not volunteer any undesirable information about yourself. Start thinking up excuses for your shortcomings before someone else finds out about them. There are some very suspicious things in your past, and this past will always come back to haunt you.
5. This mystery is divided into six rounds of play. Friday evening you will be reminded of some skeletons in your closet that have been hidden for years. You will be introduced to the other characters, as they are known in Jamesport, and Friday evening the murder scene is open to your inspection. Roam around and ask the inspector all of the questions that you have. He wants to find the murder also.
6. Use the night to dream about your excuses, because you will need them after finding out about your ghosts in the closet.
7. Saturday morning's breakfast will be an informative time. You will all have found clues about others that must be divulged at the breakfast table. This is not a time to be quiet about what information has come to your attention.
9. Saturday afternoon is a time to search for clues throughout the town. Some of the shop owners are very informative. Gossip is a way of life in a small town. You may shop until you drop, but find the hidden clues in the stores before dropping. The clues will not be easy to find. Only open YOUR clue. NO CHEATING HERE. The clues will be in blue envelopes with your names on them. (Some clues will be given verbally without an envelope.) There may not be a clue for you in each participating shop, but one never knows until the clues have been found. Bring your envelope back with you to help play the next round. Your memory is not what it used to be. You may want to refer back to the information that you have heard or found.
10. Saturday evening there will be a formal dinner. At this time there will be no detailed discussion of clues, but a few innuendoes may be dropped. We want everyone to be able to enjoy the candlelight dinner.
11. After dinner in the parlor you need to seriously pursue all the nasty information ferreted out during the day. Accuse, repeat gossip, tell what you know, tell what you think you know, and tell what you assume. Just don't out and, out lie (unless told to so).
12. When sleeping remember the clues. Dream of ways the murder could have been committed. Decide who really did commit this murder, but don't trust others in your room. If you slip and divulge your ideas to another, you too may have to be dealt with. How well do you trust those around you? You thought that you knew these people, but now there is so much that you never knew. Well, please be careful・・・・the dark is very dark, and the night is very long.
13. Early Sunday morning there will be a final discussion of the facts. At this time you will explain who you think the killer is. Make and justify your accusation. Explain why you could never have done it.
14. After breakfast there will be a carriage ride if conditions permit. The killer will be revealed before you depart to go home, at this time you will be a captive audience.
15. Good luck! I hope you are clever enough not to get caught!
Meet our Characters for the Murder Mystery and Country Colonial B&B
Frances Bryce owns the Den of Antiquity; an antique store in Jamesport, Mo. Frances is a little eccentric and expresses this through her unusual attire. She loves to dress in long clothing as if she were living in the age of the items she is selling. Her hair is always pulled up tight and she does not wear any makeup. This may be why she has never attracted a man even though she has a very good figure and good features.
Merry Weaver is a beautiful, stylish and classy lady, but she is very shy and modest. She has beautiful light・・colored hair. Merry spends a lot of money on nice things including clothes. She has recently become a widow.
Senator Phyllis Bluster is a widow. She is a very sexy woman, who enjoys other men knowing that she is attractive. It may even be the way that she acts and carries herself that makes her so attractive. She is stylish and very sophisticated. The Senator graduated with a degree in business from an eastern college and has always been on top of every situation until her husband died. Now, she is a little confused and is still in a state of shock.
Levi Strauseman is an Amish man who is very devoted to his wife and 15 adorable children. He is a horse trader and travels all over the United States with his driver, Edsel. Levi is a quiet and well-mannered man. He has one little flaw・・・・he likes to chew on an unlit cigar and wear an old trench coat when the church bishops aren't around. He dresses similar to the TV character Columbo.
Richard (Richie) McGreedie is the local banker. He looks and acts like the typical banker. He is a college graduate and is very polished. He has a lovely wife and two children. Richie is being encouraged to run for mayor of Jamesport in the next election.
General W.O.Manizer
still wears a lot of his medals even though he is a retired air force pilot. He even wears his uniform whenever he can. He is very proud of his military career. His recent divorce makes him the most eligible bachelor in Jamesport. His hobby is building real, and remote control, airplanes.
For more information, call Country Colonial Bed and Breakfast
Located One Block North and One Block East of 4-Way Stop in Downwtown Jamesport, MO.
1-800-579-9248 or 660-684-6711 and ask for Myrick or Nina dan Hartog, Innkeepers
www.CountryColonial.com